Succulents for the Garden Series
by Attila Kapitany and Rudolf Schulz
AUSTRALIAN BOOKS
includes AUSTRALIAN PLANTS
WRITTEN IN AUSTRALIA for AUSTRALIAN CONDITIONS
A series of books on succulents covering what they're called, how to grow them, how to use them creatively in the garden and lots more. Each book builds on the others, covering how to garden with succulents successfully. Unlike other books on succulents, our series is up to date, practical and has lots of Australian content.
The titles MORE SUCCULENTS FOR THE GARDEN and SUCCULENTS: CARE and HEALTH, ARE NOW OUT OF PRINT AND SO NOT AVAILABLE AS PICTURED BELOW.
To ORDER these remaining three as a set, please contact us by email gecko@connexus.net.au.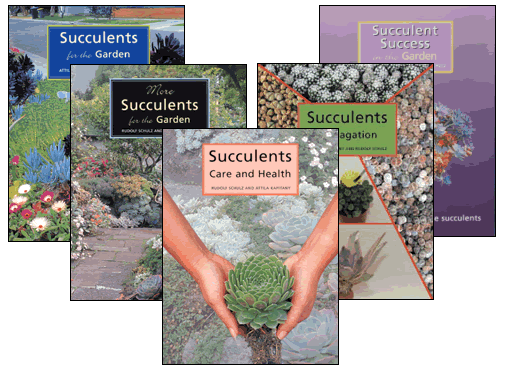 About the Authors
The Succulents in the Garden series is written in Australia by Attila Kapitany and Rudolf Schulz and published by them (Schulz Publishing*). The authors both have independently owned and managed nurseries specializing in succulents since 1983 (Tarrington Exotics of Teesdale Vic and Paradisia Nurseries), and as a result, have in-depth knowledge about the availability, suitability, and growth characteristics of most succulent plants available. Both authors have travelled widely overseas to visit succulents in their native habitats which has helped in the understanding of the suitability of these colourful and easy care plants.
*Rudolf Schulz - as of October 2007 has closed down his website (www.tarrex.com.au). So all orders for our books or contact with Rudolf or Schulz Publishing can be made here through our website .
Other titles in this series
---