Home
This website is dedicated to increasing the awareness, appreciation, conservation and cultivation of Australian native succulent plants.
NEW PUBLICATION - MAY 2015
Australian Native Bulbs
Most people are unaware that Australia has any; even experts can often only cite one or two species. Yet here 8 exciting species are showcased in detail, with many more discussed. Topical publication with some cultivation covered. Most of these are very drought tolerant, so ideal in succulent plantings. 24 pages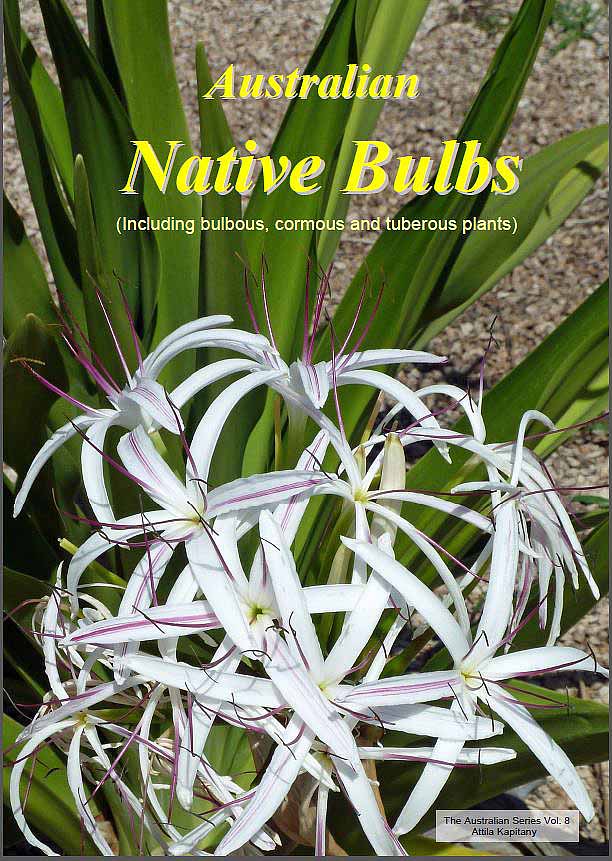 Also visit our EBay store for more
http://stores.ebay.com.au/Australian-succulent-plants-books
 

xDisphyllum 'Sunburn'

A new Australian hybrid succulent plant of distinction has been released - March 2012. Bred under a harsh summer sun, it is a plant truly symbolic of Australia - green and gold, and with the name 'Sunburn'.

 

 

 

..........................................................................................................................................

 

 

ATTILA'S GARDEN

Here's a link to the best seasonal highlight pictures of our garden especially in spring and autumn.

https://plus.google.com/photos/100168126183660829428/albums/5667180070304614545?authkey=CJWYkr-V4e3mWQ

..........................................................................

January 2014 was an exciting time for me!

 

I launched a new native succulent plant field guide book project seeking crowd funding via KICKSTARTER (now finished and is not proceeding).

But I still like sharing this with everyone including  you.

Here's the link which will lead you to the platform with the full story. It is includes numerous pictures of spectacular new native succulents I've never shown before. Some of these are likely to be the first time people have ever seen these plants. Cheers, Attila

 

http://www.kickstarter.com/projects/117781903/australian-succulent-plants

...................................................................

Another new native succulent

A new Australian Calandrinia species from Western Australia with bright yellow flowers has been known and around in cultivation for some time, but it was not until June 2011 that  the new species was named by Frank Obbens  - Calandrinia flava.

Most Australians recognise Calandrinia as having only pink or perhaps white flowers, so this will come as a real surprise!
While not a rare species this is certainly an attractive plant that has somehow missed being officially described.

I have been growing Calandrinia flava in Melbourne for a few years and it seems quite easy to raise and grow from seed outdoors.
I have enough spare seed this year to be able to make it available to those interested in trialling it.
My supply is limited (see general seed list for availability or contact us for more information about this plant).


Does Australia have any worth knowing or growing? Australia has almost no native succulents; except for a few barely fleshy weeds, unlike the well-known rich diversity of succulents in Africa. This has been a long-standing and widespread view. Even the world famous British cactus & succulent author, Gordon Rowley in1978 also supported this view in his book "The Illustrated Encyclopaedia of Succulents"™ Salamander Books UK (page 36).
In the year 2006 this common view was still held worldwide. In Australia in gardening circles and even specialised cacti and succulent groups in all the major cities had little knowledge or awareness of what wonderful succulents could really be found "out there".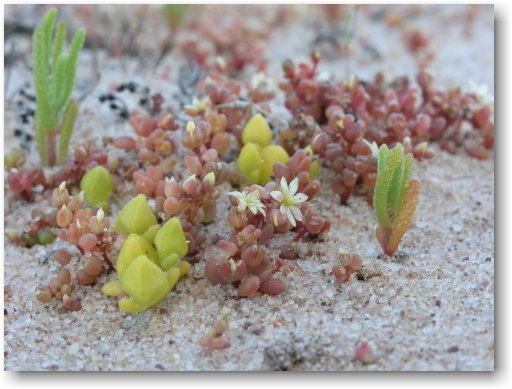 In the coming years these succulent plants will increase in popularity partly through this website and the book titled, "Australian Succulent Plants"™.
Succulent plants grow in semi-arid or seasonally dry regions found across most of Australia, sometimes even in tropical and other seasonally wetter parts of the country. In more moist and humid areas, there are some succulent plants that are found in drier micro-habitats, such as on exposed trees or rocks.
Australia can boast at least 400 species that can be regarded as succulent.
Much of Australia has the most irregular rainfall of any continent.
It is a land of drought or deluge, sometimes with little moderation in between.
All the pictures here with this text show a range of very succulent Australian plants photographed near Kalgoorlie, Western Australia in spring 2006.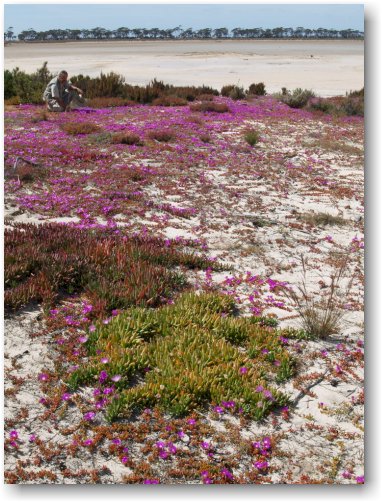 How many different species are apparent?
How many can you identify?


Plants such as the introduced Bryophyllum delagoense and Opuntia tomentosa and the native Adansonia gregorii, Dendrobium speciosum, Halosarcia bulbosa, Hoya australis and Portulaca oleracea are all Australian succulent plants that share several common features.
They can all be found growing naturally across Australia, all utilise water storage mechanisms in the leaves, stems or roots, and are more sun and dry-tolerant than most plants.
Our PHOTO GALLERY of Australian Succulent Plants includes photographs from the book as well as many never before seen!
Go to our gallery

---