Fire and Native Bottletrees
Since the Ash Wednesday fires some years ago I've been collecting images and information on alternative plants for home gardeners and landscapes in high fire risk areas.
With the more recent severe fires in Canberra an insurance company contacted me asking about succulent plants and their fire resistance, because in one street where numerous houses were destroyed, the only one left standing had succulent plantings around the house perimeter.
As I explained to them, there is the obvious fact that most succulents naturally have very fleshy, non-combustible leaves and stems.
But there are numerous other lesser known advantages, some I will explain here.
Succulents also have short, sturdy compact growth that can act as a small but important windbreak, and can impede low, horizontally flying embers from reaching the house.
Also their water-filled leaves and stems are likely to have a cooling effect and are the least likely of all plants to add much at all, if anything, to the overall fuel load of any fire.
Whilst most gardeners mulch heavily under trees and shrubs, this adds to the fuel load of any fire and puts vast exposed areas at greater risk when under ember attack.
Succulent plants are usually not planted with mulch unless it is gravel or stone.
Now that Victoria has just experienced the worst bush fire fatalities in history and the loss of houses already exceeding 2000, communities are devastated in some areas as a result.
Increasingly survivors and the rest of us feel an obligation of sorts, to help where we can to start rebuilding.
The media is full of stories about angry people who have lost their homes, who for years had been told the law did not permit them to cut the trees down near houses; also that some councils and nature-groups have been encouraging home owners (in these now burnt out areas) to plant only native plants. One report explained that home owners were also encouraged to plant close to, and around the houses, to blend well with nature.
All these complaints are focusing on the probability that too much vegetation around houses has directly been one of the major factors in the loss of houses and that it was somebody's fault.
Whilst the media may have highlighted some possible extremes of well-focused negativity, this issue nevertheless is an important one.
Gardeners have also for many years now been increasingly encouraged by all to use mulch, particularly tan bark, which unfortunately is now recognised as adding considerably to the fuel load of any fire.
In light of the criticism and a possible negative image being generated of native plants or gardening in general, the following may be a refreshing change in direction on this topic.

Here are some images of a native Australian tree, Brachychiton rupestris, in the context of bushfires.
(This species is considered a succulent plant by many and commonly grown by cactus and succulent collectors).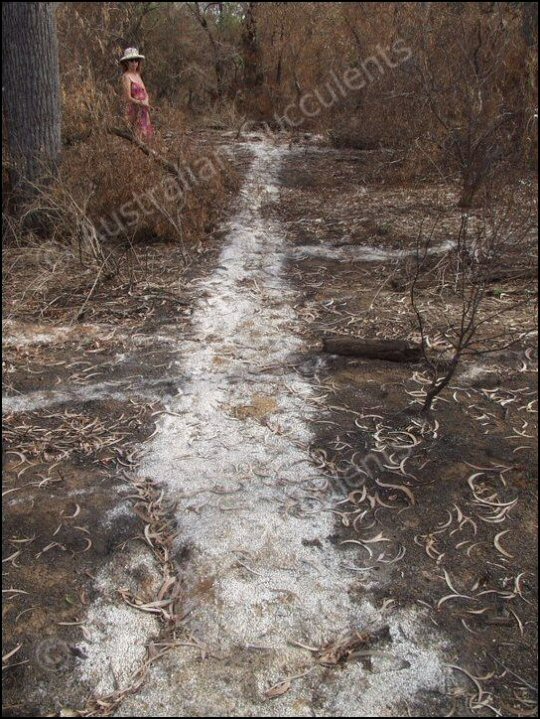 A south-central Queensland forest fire where many live mature Eucalypts almost totally disintegrated - the white ash shown here is all that remains of one..
Note the white impression shows the tree's size and shape. Michele (for size comparison) is standing in the top left alongside a healthy Brachychiton.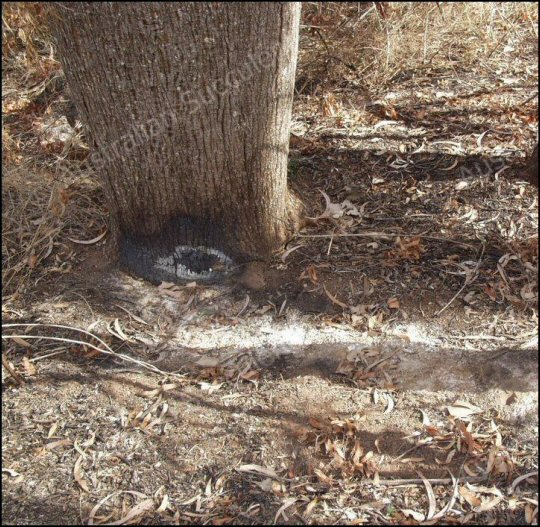 A close -up of the previous picture and the Brachychiton to the left of Michele.
The white ash of a Eucalypt branch shows that it also burned the bark of the Brachychiton but did not penetrate, because of the high moisture ratio in the pithy trunk.
If this tree was a Eucalypt it would have caught fire inside and most likely have also perished.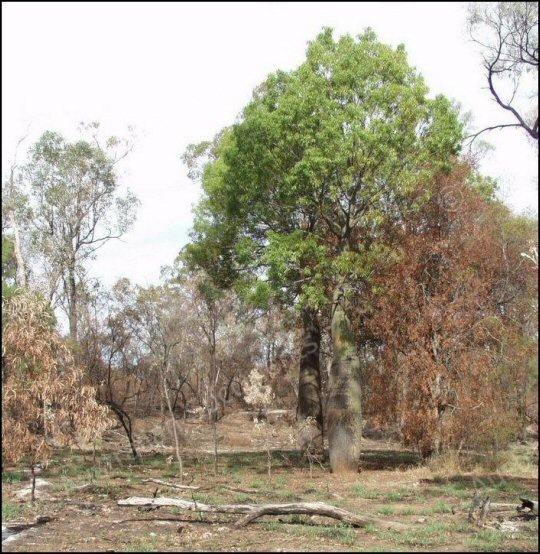 In this recently burnt out scene it is evident that Brachychiton rupestris suffered the least of all the assorted native plants.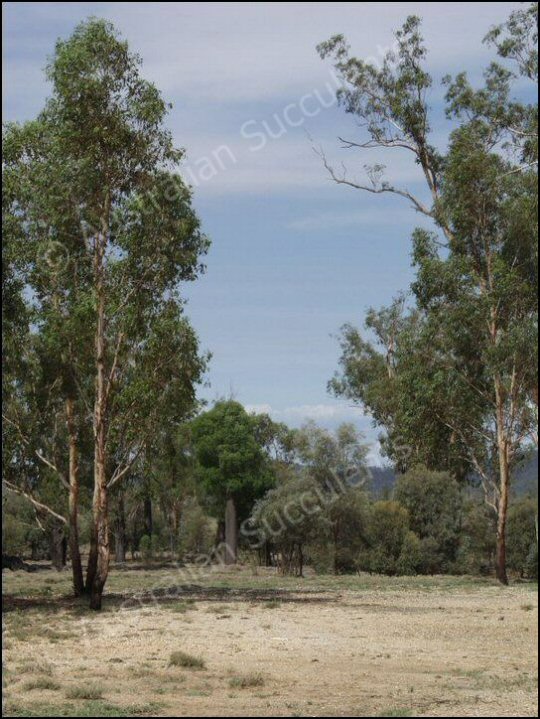 A natural Australian scene with an assortment of native plants, photographed after several years of very poor rain. Note which plant is obviously the lushest-looking. This may imply that it is more fire-resistant than its neighbours.

Close-up of previous picture. A very stately upright small to medium size tree that has been pruned only by nature. The possibilities for this tree in Australian landscapes and gardens are enormous.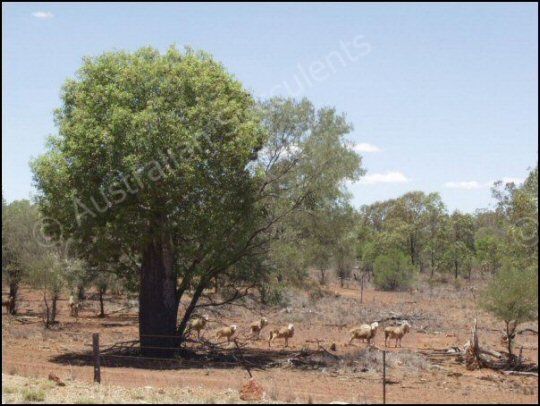 South-central Queensland after several years of drought. On a very hot day, numerous sheep were huddled around the base of this Brachychiton rupestris before we disturbed them. No other native plant or tree here provided such deep shade. Also when standing alongside the moisture-filled swollen trunk, it felt surprisingly cooler than expected.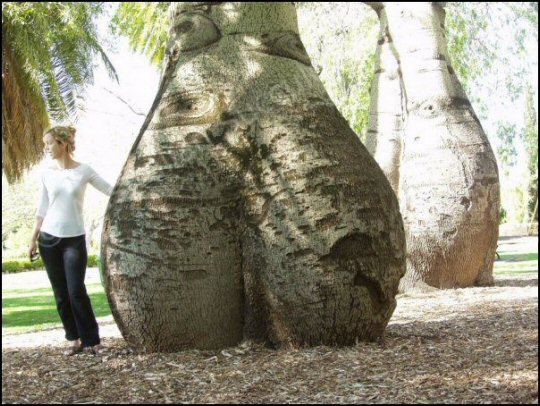 No comment.
In summary, I can write pages more, show a lot more pictures, just on this one species of native plant that deserves greater appreciation by Australian gardeners, and possibly in these now burnt out areas of Victoria, where green alternatives and inspiration may need to be considered (by the way there are numerous other worthwhile Brachychiton species, including one that is native to Victoria.
You might also wish to see the 'cultivation & trials' section of this website for more on the use of B. rupestris in Victoria and other succulent plants useful in high fire-risk areas).

Disclaimer: Pictures, captions and associated text are my own personal opinion only, based on my experience and observations. If you'd like to add, agree or disagree, your input would be greatly appreciated and likely to be passed on to others.
---